Hi all, John The Wine Guy here, coming to you from Sunny Brighton in the UK – my home for several years between stints in London. The Beach won 🙂
Hope everyone is well and enjoying the heat we've had over the last week or so.
With bars and restaurants now opening I thought i'd offer some local Brighton recommendations of places to use the "eat out, help out" initiative from the government so you can start spending money and supporting the hospitality trade. If you don't live this way we're only an hour from London and there's always a reason to visit the seaside!
Coming out of lockdown has been a unique experience for everyone. Several of my friends and colleagues keep talking about how they have started looking at future holiday plans or even just going to sit in a beer garden with friends. I, myself, am a bit more cautious but am looking forward to a trip to the 3 choirs Vineyard in a week or so. https://www.three-choirs-vineyards.co.uk/
I'll share my experience on my return but needless to say i'm looking forward to it! Foreign holidays have been affected for us all i'm sure, so it's nice to be able to support UK based business.
So below are my top 5 places to visit and enjoy some of the best food and wine the city has to offer!
Etch
Etch opened their doors in 2017 and was voted this years best restaurant in Brighton. The former Masterchef winner Steve Edwards has gone from strength to strength and offers an exceptional, ever changing tasting menu. Wines are equally sublime and if you really want to treat yourself that currently have a bottle of 2005 Domaine de Chevalier, Pessac Leognan from the left bank of Bordeaux. This was a fine vintage so a great reason to splash out!
https://www.etchfood.co.uk/
Kindling Restaurant
Opened in December 2019 Kindling was just starting to make a name for itself before Covid hit. It has now reopened and is welcoming guests once again. A stones throw from the beach this fantastic restaurant has several outside tables and is part of the sustainable restaurant association offering a fantastic seasonal menu. To match the great food come an excellent well thought out wine menu suitable for everyone. With Vegan, bio dynamic and natural wines there is something for everyone.
https://www.kindlingrestaurant.com/
Salt Room
Situated right next to the Hilton hotel this great restaurant also has a sister site in both Brighton and London. Alongside the great experience (which is to be expected of course) they also have some cracking views right out onto the beach. Serving grilled local sea food and steaks alongside some fine wine choices. They even have a couple of bottles that utilise the Coravin wine preservation system which means you can try a premium bottle while only buying a glass.
https://www.saltroom-restaurant.co.uk/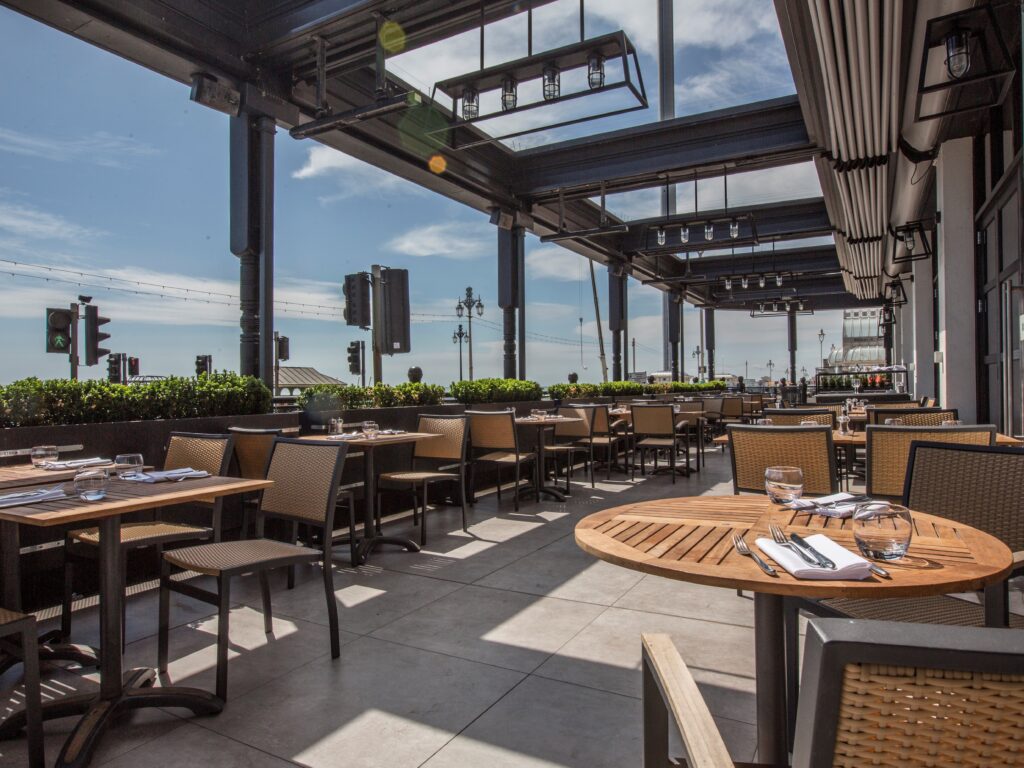 64 degrees
Recognised in the 2020 Michelin guide and awarded a Bib Gourmand this is a destination restaurant that you absolutely have to book to get in! Bib Gourmand is a just-as-esteemed rating as the coveted Michelin Star but that recognises friendly establishments that serve good food at moderate prices. It was challenging to get a table pre-Covid so now it may be even more difficult, but it is well worth the effort! Having been one of Brighton's stand out restaurants for several years now their set menu approach will leave you inspired and satisfied in equal measures.
https://www.64degrees.co.uk/
Gingerman Restaurant
One of the most longstanding, success stories in Brighton you cannot go wrong with a meal at the Gingerman. Founded in 1998 by Pamela and Ben Mckellar they now own and operate several great sites in town and one just outside ( If you do have a car, the Gingerfox's beer garden is glorious ) An intimate restaurant that has now reopened they offer a great a la carte menu, but if you really can't decide then a tasting menu will allow you to indulge in a bit of everything! They also offer exclusive hire and private dining so well worth a consideration for your next big birthday.
https://www.gingermanrestaurant.com/
One more honourable mention is to the set – https://www.thesetrestaurant.com/
The only reason it didn't make the top 5 is that it's sadly not re-opened yet. That is planned for the end of August. They offer a fantastic seasonal set menu and it's right next door to a boutique hotel. Perfect for a weekend get away! They also have some great wines and cocktails and hands down THE BEST Negroni in town!
I hope that has whet your appetite and offered a little inspiration for your next weekend break!
See you all soon
Cheers, John The Wine Guy